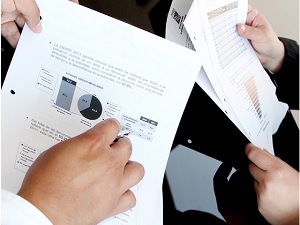 These are a few of the highlights in our webinar: Business Planning Basics and how it is helpful if you've been thinking about developing or improving your business plan, whether it is for a brand new business or for an existing business that needs some clarity and direction moving forward.
The webinar focused on the following 4 main topics:
Business Planning 101 – A business plan is defined as a formal statement of the goals and objectives you have for your business, the reasons you believe those goals and objectives are attainable, and your plan for reaching them.  In essence, a business plan is a road map that shows where you want to go and how you plan on getting there!
The One-Page Business Plan – If you feel a little overwhelmed by the idea of creating a full-scale business plan, this is a great alternative. The format for a one-page business plan begins with a brief statement about the problem you are trying to solve, then explain how your product or service will solve that problem, then show how your business will make money by solving that problem.  In addition, you want to go into a little bit of detail about the market - who is your ideal customer, how many of them are there, and how you plan to reach them.
Create a Complete Business Plan – The one-page business plan is the condensed version of a traditional business plan, but you may want or need something more comprehensive, whether for your own planning purposes or because you need to make a formal presentation to a bank or investors. A complete business plan takes a lot of time and effort to compile, should be updated at least once a year to ensure it continues to be a meaningful document in terms of the operation of your business, and it will require you to track multiple metrics in the area of sales, marketing, administration, finance, and operations.
Business Planning Tools – To help you get started with a business plan that suits your needs, we have rounded up some of the best online software solutions at the following websites:
This and a lot more was covered in our Business Planning Basics webinar.