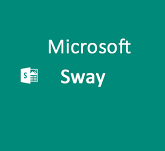 This is an overview of Office 365 Sway that was recently covered in our webinar for our Baton Rouge IT support healthcare customers, Using Office 365 Sway designs for physician offices, and how it has revolutionized the way presentations are created in Microsoft.  Sway is a lightweight, cloud-only, digital presentation application that has been hailed as a dynamic alternative to PowerPoint.  Sway's built-in design engine helps you showcase information in modern, interactive, and attention-getting ways with ease.  Sway offers online or mobile access and you can share your Sway on social networks — including Facebook, Twitter, and LinkedIn.
At this point, you may be wondering when to use PowerPoint. PowerPoint is still the king of the slide deck and works best for content that will be delivered by a presenter. It offers more options in the way of customizable transitions and animations, as well as screen recording options.  Sway is best when it comes to creating collaborative presentations among team members allowing content additions and editing in real time (after all, collaboration is what Office 365 is all about!) and content that does not need a presenter.  It offers versatile layout options to view in a browser across multiple device platforms.
Sway designs have an emphasis on storytelling, rather than presenting information bullet-by-bullet. Sways are created for a narrative structure that flows, either horizontally or vertically, and the reader can use a mouse wheel or swipe actions to move through it rather than a mouse click, which is the most popular navigation in a PowerPoint presentation. This is a small but subtle distinction between these two applications. PowerPoint slides are built as a series of steps whereas Sway designs feel like a journey, so it is easier to follow the flow as if you are reading naturally. For this reason, Sway does not have slides - it has a single storyline.
Sway has a lot of other modern features.  It offers to help you create designs simply by entering a topic using its artificial intelligence platform powered by Wikipedia. If you are looking to get a message across quickly, effectively, and without a lot of design know-how, Sway is a great tool to get you on your way.
This and a lot more was covered in our Using Office 365 Sway designs for physician offices webinar.