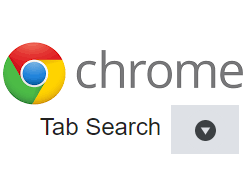 You may have noticed that your Chrome web browser has a new icon on its title bar. Although at first glance you might think it is a malware alert, it is actually an exciting new Chrome feature called "Tab Search" that has the capability to search for a specific browser tab by key word (really useful when you are multitasking with several web pages open simultaneously) as well as displays a list of all currently open browser tabs to quickly navigate to that particular web page.
When Tab Search is enabled it is displayed as a small black circle with a down-pointing triangle located in the top right corner next to your minimize button (it can also be accessed using the keyboard shortcut command Ctrl+Shift+A).
Currently the Tab Search window will initially display five web page titles in the list with the capability to scroll vertically to see the entire list of all open browser windows. You can select a tab in the list with your mouse or use the arrow keys on your keyboard to select a tab and hit Enter to go directly to a tab. Another handy feature in this listing is the capability to close a web page tab directly instead of having to navigate directly to that particular browser tab. Chromium developers are also working on a few other improvements to the Tab Search feature such as displaying time stamps associated with open browser tabs as well as the capability to filter items and show recently closed browser tabs.
Don't currently see the Tab Search icon in your Chrome browser? Here's how to get it now:
Enter chrome://flags/#enable-tab-search into the Chrome address bar (this opens an Experiment browser tab).
Set the option for Enable Tab Search to Enabled.
When prompted, relaunch your browser, and the Tab Search feature will now be enabled in Google Chrome.
So if you are the type of internet user who feels they are frequently drowning in a multitude of open browser tabs, then take advantage of this lifesaver Google Chrome is offering by using Tab Search.
Watch this clip to see it in action: