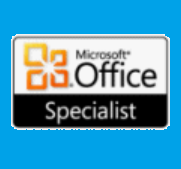 What is the value of certification and how do you place a price tag on how it can lead to success? Microsoft Office Specialist (MOS) certifications demonstrate professional-level skills and knowledge in the ultra-popular business productivity applications that comprise the Microsoft Office suite and are the only globally recognized credentials that validate your expertise in them. Microsoft Office Specialists tap into the full features and functionality of Microsoft Office, resulting in improved academic performance, increased job candidate marketability, and enhanced confidence and efficiency in the workplace.
Getting a job is one thing but getting the right job requires preparation, being skilled, capable, and ready. Certification is an effective way for students and working professionals to demonstrate the skills and knowledge they possess - which are needed to perform successfully in the academic arena as well as workplace environment.
Key reasons to get certified:
If you are a student, certification improves graduation rates and certified students frequently have higher grade point averages not to mention more likelihood of continued learning and higher confidence.
Certification also leads to several competitive advantages including a stronger skillset to succeed in school and a resume that stands out making job searching and advancement easier since 91 percent of hiring managers note certification as a hiring criterion.
As quoted by a senior hiring manager, "A certification will show any existing or potential employer that you are willing to go over and above the call of duty in educating yourself in your field."
In a competitive job market, certification can make a significant difference now more than ever as employees who proactively develop their skills are more frequently noticed and rewarded as well as those with certifications are more likely to receive pay increases and promotions.
Bottom line - certifications pay big dividends! Certified employees report having more professional credibility in providing increased value to their employer, having greater self-confidence in their abilities knowing that their skills translate to real world applications, and an increase in overall job satisfaction.
Don't miss out on the opportunity to add value to yourself through certification. The process of getting certified is quite simple when you have the right training and support. Puryear IT can help you achieve your certification goals. Contact us now to get you on your way!