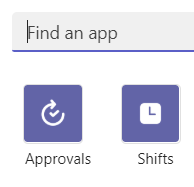 Start the new year off right and make it your most productive by exploring apps in Microsoft Teams. The Teams App Store features hundreds of apps organized by most popular top picks, over 20 categories such as productivity and social, as well as industry-specific such as education or health care.
Apps can help you stay organized and get all kinds of work done without ever leaving Teams!
Here are 5 things to know about using apps in Microsoft Teams:
1. Apps can be added in chats, channels, and meetings.
When you interact with various people at work, you may need diverse information and unique tools to relay it. You can add relevant apps as a tab at the top of any chat or channel. You can also access apps before, during, or after a meeting to help you collaborate better and follow up with attendees.
2. With apps messages can be more than just text.
Some apps can be inserted directly into a Teams message to offer information (such as Weather), have functionality (such as Azure Boards), or simply just to have fun (such as Custom Stickers).
3. Some apps answer questions and follow commands.
A well-known perk of Teams is collaborating with colleagues—a lesser-known perk is working with bots! 
You can interact with bots by @mentioning them in a chat, channel, or search. For example, you can launch the Polly app to create a new poll right from within a message or @mention News in the command box to stay informed.
4. App connectors keep the right people informed.
Are there certain notifications that are useful to your whole team? Within a Teams channel select the More Options menu to access Connectors and choose an app to add or configure notifications.
5. Some apps are for personal use.
Apps that offer personal access, letting you use them outside of a channel or chat but still within Teams, are available in the More Added Apps menu at the bottom left of the navigation icons in the Teams interface. For example, this menu may offer OneNote that gives you a private workspace within Teams, tasks assigned to you from Planner and To Do, or neat suggestions to explore.
Watch this video to see all about Apps in Teams: