The next time you reply to an email in Outlook 365 (or Outlook on the Web) be sure to take note of the handy reply buttons that appear at the bottom of the message body to suggest words or phrases as a quick reply. This is just one more way Microsoft is staying one step ahead by helping to streamline your workflow and intuitively providing assistance with suggestions to save you time in your email message replies.
Outlook uses a machine-learning model to continually improve the accuracy of the reply suggestions. This model runs on the same servers as your mailbox within your organization.
Let's look at some possible suggested replies scenarios:
Answer a question
When you receive an email message whose content can be answered with a quick response, Outlook suggests three responses in the form of blue command buttons that you can use as your reply with just the click of your mouse. If one of the suggestion replies works for you, just select it and then click the Send command!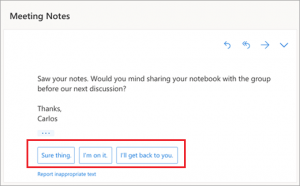 Schedule a meeting
One of the really useful options you might see in suggested replies is Schedule a meeting. This reply option is triggered when the content in your message hints to possibly meet with someone. You can select it to quickly create a meeting invitation request with the sender's email address already populated in the invite attendees field.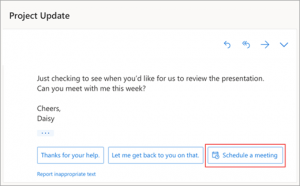 Attach a file
Another reply option you might see in suggested replies is Attach a file. Once again in scanning the message content a trigger for this reply is the reference to a file. You can select it to quickly include an attachment file that you've recently worked on or that might be relevant to your conversation - or browse and attach a file as you regularly would. Once a file is selected, a draft email message will be created with the attachment you selected.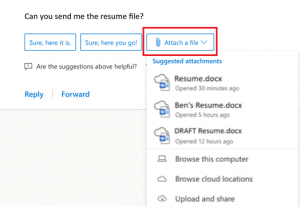 If you do not see these cool features appearing in your messages or decide you do not want to use them, just navigate to your Outlook Settings > Mail > Compose and reply category to access the check box for Show suggested replies.