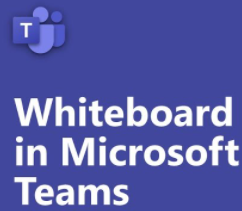 In the virtual workplace spontaneous creativity and rich collaboration can be a challenge. A lot of us miss the hallway and breakroom chats that sparked new ideas or huddling around an actual whiteboard with markers to visually capture a conversation with the extra benefit of being able to read the room.
We now need solutions designed for extreme flexibility so team members can brainstorm and collaborate from anywhere at any time. One such virtual team creativity solution comes in the form of the Microsoft Whiteboard in Teams.
In a Teams meeting it's easy to pull up a Whiteboard and start sharing ideas. In the Teams meeting window, just tap on the Share button, and you will see Microsoft Whiteboard as one of the options. On the Whiteboard you can add notes, text, shapes, and much more.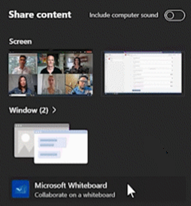 Concerned about losing important annotations and brainstorming ideas expressed on the Whiteboard when the meeting ends? All of the Whiteboard content in a Teams meeting will automatically be saved so team members can refer back to it or update it whenever they need to!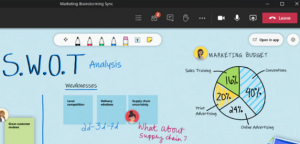 It's also simple to prepare a Whiteboard ahead of a scheduled meeting. Simply double-click the meeting event in Teams Calendar, click the Whiteboard tab and a Whiteboard is ready for action. When the meeting begins, the planned Whiteboard is already in the meeting.
For projects and longer-term discussions, you can add a Whiteboard tab to a Teams channel. In this way, ongoing brainstorming and collaboration are enabled as the Whiteboard is accessible to the channel's team members and they can view and update it any time. You can also name a Whiteboard and optionally post to notify the channel that the Whiteboard is now available.
Come back next week to learn about the variety of Whiteboard templates available for making your Teams collaboration experiences even more productive and entertaining, or learn how to get more out of Teams with our article Microsoft Teams Has an App For That (or just about anything).