Do you wish you could get your content in writing as fast and effortless as you can speak it? Your wish is Microsoft's command!
Powered by Microsoft Speech Services, the Office Dictation feature is available in Word, PowerPoint, OneNote, and Outlook. This exciting speech-to-text technology lets you quickly get your thoughts out in OneNote, create drafts and outlines in Word, compose an email in Outlook or create content in text placeholders in PowerPoint. Simple voice commands, available in multiple languages, let you edit, punctuate, and structure your content with ease.
To enable dictation all you need is a microphone and a reliable internet connection. The Dictate feature resides on the Home ribbon in OneNote, PowerPoint and Word and is available in the New Email command in Outlook.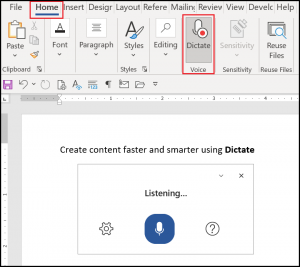 Here's how to dictate and some options of what you can say:
Click the Dictate icon to activate and start listening. (A floating dictation toolbar will appear with the capability to pause dictation, access dictation settings and use the Help index.)
Start speaking to ensure text appears on the screen.
Insert punctuation font enhancements at any time by stating it explicitly such as "period", "comma", or phrases like "bold last word" or "underline last sentence."
Use popular voice commands such as "new line" to create a new line with the cursor; "delete" to remove the last word you dictated; "new paragraph" to begin a new paragraph.
Exit dictation with Close (x) on the dictation toolbar or use the voice command "stop dictation" to terminate the recording session. (You can also use Alt + ` (backquote) to toggle the mic on and off.)
Never has the power of the spoken word been more true than with Microsoft Office Dictation. Learn more about what Outlook can do with our blog post "Have You Noticed Outlook 365 Email Reply Suggestions?".