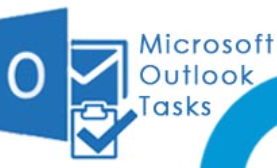 Do you have a task that needs to occur on a regular basis but don't want the hassle of creating constant reminders? The Microsoft Outlook Task Recurrence feature includes an option to do this for you – it's called Regenerate new task.
For example, let's say you need to submit a company expense report that is due every week on Monday. Once the report is submitted for the current week, wouldn't it be nice to have your next submit expense report task automatically appear on your Tasks list for the following week? Well it can by enabling the Regenerate new task option when setting up the task. Just set the designated recurrence pattern interval and day of the week with the regenerate new task option enabled:

With the Regenerate new task setting in place when you mark the current week's task complete, Outlook automatically generates a new task ready to go for the next week!
Now let's take a look at how using the Outlook Today view helps you see and manage your recurring tasks. Outlook Today is your day (or week) at a glance feature in Outlook that summarizes and organizes your calendar appointments and meetings, tasks and messages.  You can set your Outlook Options to default to this view when opening Outlook each day to see how your schedule looks, what tasks you have to accomplish, as well as whether you have any messages waiting in the Inbox.
As this example of Outlook Today view shows, the submit expense report recurring task can be controlled with just a click of its associated checkmark:

So eliminate post-it notes on your monitor or sticky notes on your desktop by using the time-saving regenerate task feature in your Outlook tasks today! Contact us today to get started on your Microsoft 365 training.