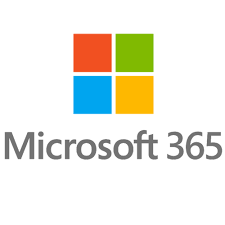 A recent Microsoft survey indicates that after two years of hybrid and remote work, the office still matters for both employees and managers. In this survey, 38 percent of hybrid employees say their biggest challenge is knowing when and why to come into the office, while only 28 percent of companies have established team agreements about who will be working from where.
However, business leaders have had to rethink both physical places and social norms to make office time worth the commute (for those that still have one). This means focusing on the who, why, and where of in-person gatherings and ensuring that physical spaces are designed to help hybrid teams feel connected and engaged.
With these statistics in mind and to help coordinate office time among teams, Microsoft is updating Outlook to allow users to RSVP to meetings and to note whether they plan to join in person or virtually.
These new RSVP features will be available in Outlook on the Web in the second quarter of 2022: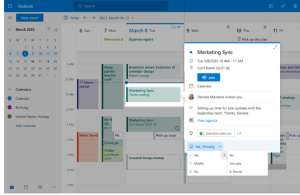 To bridge the gap between digital and physical workspaces, Microsoft is also introducing a new meeting layout for Teams Rooms called Front row.
Designed specifically for hybrid meetings, it brings the video gallery to eye level at the bottom of the screen so people in the meeting room can see remote colleagues in a more natural face-to-face interaction—simulating as if they were in the same physical space. Content is centered on the screen and surrounded by additional meeting information and attendee involvement, including chat, raised hands, and live reactions.
Front row is now available in preview, with enhanced features to follow later this year: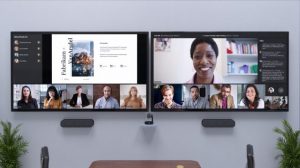 Also revealed in the Microsoft survey, more than 50 percent of hybrid workers are considering going fully remote in the year ahead. With that demand for more flexibility and mobility, the days of a fixed office phone in a fixed office will be over for most of the workforce.
Teams Phone will soon offer a truly mobile-first experience with Operator Connect Mobile in partnership with some of the world's most innovative telecom operators including BT, Rogers, Swisscom, Telia, and Verizon. This will provide one phone number for your office number and your mobile number, no matter what network or device you are using. You will also be able to move calls across networks and devices with no interruptions—for example as you are transitioning from your cellular service while on the go to your office Wi-Fi.
Connect Mobile for Teams Phone will be available in preview next quarter with select operator partners: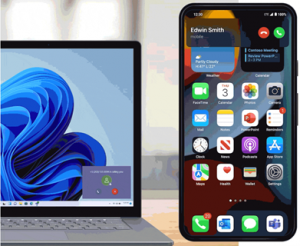 Get the most out of Microsoft Teams with our posts on Whiteboard and Chat Options in Teams.