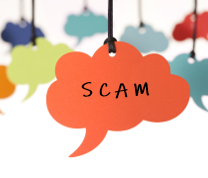 Cybercriminals are consistently coming up with innovative cons in their never-ending pursuit of either your identity or money. Let's take a look at these relatively new types of scams that are becoming more common, along with how to stay safe in avoiding them:
Have you gotten a text from your own phone number?
You may get a text thanking you for paying your bill with an offer to get a gift by just clicking on a link. Don't click! Clicking could download malware or get your phone number added to lists that are then sold to other scammers. Scammers have spoofed the caller ID to look like they're messaging you from your number, but the shock of getting a text from yourself is bound to get your attention — which is what they're after.
How to stay safe: Delete the text and report this to your message carrier.
Fake job frauds
Cybercriminals harvest contact information and personal details from resumés posted on legitimate job websites such as CareerBuilder, Indeed, and Monster. Scammers pretending to be recruiters may call, email, text or reach out on social media with high-salary or work-from-home job offers. Sometimes the goal is to get additional personal information from you; other times it is to persuade you to send money for startup fees.
How to stay safe: Use a separate email address just for job hunting. If you get a sudden job offer, be sure to independently call the recruitment company to verify if it is real.
Fake Amazon employees
One-third of business-impostor fraud complaints involve scammers claiming they are from Amazon, the Federal Trade Commission (FTC) reports. Scammers are calling people and claiming to need verification about the victim's account or something being wrong with an order. Being that Amazon is the biggest, best-known online sales company, these impersonator scams "feel real" to people.
How to stay safe: Ignore calls, text messages, emails and social media messages about suspicious account activity, prizes or unauthorized purchases and check with Amazon directly.
Cryptocurrency ATM transactions
Scammers are directing victims to use crypto ATMs and QR codes for transactions, a recent FBI alert noted. Pretending to be government officials or sweepstakes representatives, they direct you to pay a purported fee, bill or handling charge by sending cryptocurrency bought at these ATMs to an untraceable digital wallet. As these transactions are irreversible, there is no way to get your money back.
How to stay safe: According to the FTC, no government, law enforcement, or prize promoter official will ever tell you to pay them with cryptocurrency. If someone does, it's a scam - every time.
P2P payment requests
As technology for moving money has evolved, so too have methods for scammers who are trying to steal it. Cybercriminals are increasingly demanding payment via peer-to-peer money-transfer apps like Venmo, Zelle and Cash App. It's so convenient — you pay in seconds from your phone or computer; but similar to paying cash with no refund, these payments are effectively irrevocable.
How to stay safe: Only use P2P apps to send money to trusted sources and enforce the security measures offered by these apps.
As you can see, security is more important than ever. Check out our post on Quickpass to learn about password managers and how they can help keep your data safe and secure.