While there are many project management platforms available, not all are created equal. When deciding what tool you need to successfully manage a project from start to finish, be sure to look for one that allows you to do the following:
Quickly understand how to use the interface
Organize and link tasks to create a timeline
Track and mark progress
Customize your plan to fit your team's needs
Well look no further  ̶  the simple, powerful, reimagined Microsoft Project checks off each item above and takes the pain out of painstaking projects. Spearhead anything from small projects to large initiatives. You may or may not be a project manager, but now you can be the boss of any project with a powerful, easy-to-use app.
Easily plan your projects and stay on track effortlessly with dynamic scheduling based on effort needed, project duration, and assigned team members. Project allows different resources within a company to have their own isolated plan of activities that they need to accomplish within their department available in the cloud so that colleagues can see an overview of everyone's activities going forward to achieve an end goal.
The dependencies within Project allow project managers to change one date and quickly see it spin all the way through the project lifecycle with the thought being "if we change this date, what's the scenario of how that impacts overall delivery of the end result?" and be able to quickly share that with the project team.
Rather than being reactive to when a task is already starting to slip, with Project you can really see where it is going wrong before it happens so you can catch it early and be more efficient in utilizing your resources and staying within budget.
Work confidently with the power of Microsoft Project and Microsoft Teams. Use Project and Teams to allow collaboration and management of your projects, including file sharing, chats, meetings, and much more.
Microsoft Project empowers companies around the world. Aston Martin relies on Project's cutting-edge technology to collaborate and deliver their cutting-edge cars with greater efficiency and resourcing from concept to production. See them tell their Project story in this video: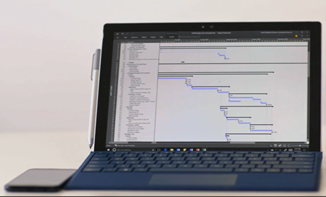 Microsoft Project pairs well with the note-taking app, Microsoft Journal. Our blog post, Microsoft Journal | AI-Powered Notetaking App, explains all that this powerful app can do!