Microsoft 365 Yammer has been completely redesigned with new capabilities that influence company-wide communication, knowledge sharing, and leadership engagement. As Microsoft's first app built from the ground up with Fluent, its design language, new Yammer provides an engaging and easy-to-use experience on the web and in the Yammer app for Android and iOS.
Yammer can be integrated with Microsoft Teams, enabling you to access organization-wide communities without leaving the hub for teamwork. Integration with Outlook lets you read, like, and reply to Yammer conversations from within your Outlook inbox. Yammer also provides an updated integration experience in SharePoint Online.
Building on over a decade of customer success and user feedback, new Yammer delivers on many popular requests with the following capabilities: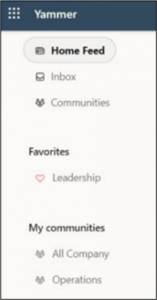 A new, personalized conversation feed powered by AI that connects you with conversations across an organization.
To better convey the purpose of Yammer, groups are now called communities. Each community can be given a unique identity with branding and cover photos.
New reactions – including Love, Laugh, Celebrate, Thank, and Sad – provide a wider range of ways to interact with colleagues in conversations.
Communicators can highlight conversations with pinned posts as well as close discussions to prevent replies.
Events can be broadcast live and on-demand with a new, simpler production option using webcams and desktop sharing, and attendees can watch in Yammer, on their mobile device, or in the new Teams integration.
At this point, you may be wondering "what is the difference between Yammer and Teams"?
Yammer is a social networking platform for connecting with people across typically larger groups within an enterprise. These groups are often spread across different divisions and geographies that come together to share news or participate in discussions – very often among people who may not even know each other personally.
Teams is a unified platform for workplace chats, impromptu meetings or quick calls as well as file sharing – typically among people who work together frequently with the goal to collaborate in real-time to get things done quickly.
So check out the new Yammer in action by watching this video:
Learn how to get the most out of Microsoft Teams with our posts on Creating a Purpose-Driven Team in Microsoft Teams and Teams Chat Options.