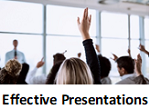 Do you know how to recognize the qualities of an effective presentation? How would you rate yourself as an effective presenter? A presentation begins with the preparation of an outline of topics and gathering the supporting facts and visuals. Learn how to make a lasting impression on an audience by delivering an effective presentation.
Course Objectives:
Define what makes a presentation effective.
Plan presentations.
Design a presentation framework.
Develop the presentation body.
Create supporting materials.
Prepare for your presentation.
Deliver presentations.
Conduct a question-and-answer session.
Deliver group presentations and virtual presentations.
Contact us to get started on your training today!