Have you ever wanted to know a little bit more about the background, education, experience and interests of some of your team members at a glance? Well,  now you can view LinkedIn directly from within the Teams platform!
When Microsoft acquired LinkedIn for $26.2 billion in 2016 it aimed to expand and integrate it with Microsoft's enterprise software, such as Office 365 and Teams. Microsoft saw the opportunity and numerous benefits of having access to the professional social networking platform, LinkedIn, with its own Office product suite to further promote its mission of collaboration and networking.
The addition of LinkedIn profiles feels like an intuitive use of these two platforms, especially as Teams looks to branch out and become a more omnipresent tool. LinkedIn profiles can provide vital background information, work experience and history, as well as links to blog posts and other useful content.
In addition, Teams users who send out invites to non-employees or extended partners can quickly leverage a bit of professional intel that could help expedite calls, answer questions, or direct after-call networking. To learn more about the power of Teams, check out our posts on Using Microsoft Whiteboard in Teams and Microsoft Apps in Teams.
LinkedIn feature appears as a tab in the top menu bar of the Teams interface when accessing Chat for a contact:

Upon clicking the LinkedIn tab, users will see an offering of suggested profiles that match the contact's name the user is chatting with:

Upon selecting a profile, users will see a brief overview of the contact's information as set up in their LinkedIn account: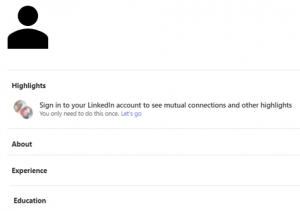 Note that it is not required to sign in to your LinkedIn account to access the offering of LinkedIn profiles, but to see more detailed information, highlights and mutual connections it is recommended to do so.
So start exploring the LinkedIn advantage and become more in the know about your team – it all starts with a Chat!