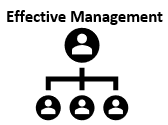 The success of any team is often directly linked to the ability of a manager to effectively lead and manage the team. A manager must understand the different roles of everyone involved on the team, be trained in developing the capabilities of all team members, and be prepared to address issues as soon as they arise.
By examining effective methods of communication, problem solving, delegation, and motivation, you can learn to be an effective manager.
Course Objectives:
Determine the roles that a manager must fill on a team and explore the key areas of personal development.
Discover how to detect silent messages through body language and other means of nonverbal communication as well as improve listening skills through active listening.
Discover the stages of team development and how to motivate your team.
Examine the need for regular team meetings and how to resolve conflict.
Empower and optimize staff performance through delegation and coaching.
Discover ways of detecting the root cause of problems and explore techniques to identify and implement solutions effectively.
Contact us to get started on your training today!