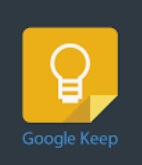 These are a few of the highlights in our webinar featuring Google Keep and how it helps you keep track of everything going on around you.  It's more than just a place to jot down your thoughts—it's also the missing link to bring Docs, Calendar, Photos, and the rest of Google's services together.
Google Keep is a free online note taking and reminder app offered by Google.  The app offers a variety of tools for taking notes, including text, lists, images, and audio.  Users can set reminders, which are integrated with Google Now, with options for time or location.  Users can also convert text notes into checklists as well as upload recordings from events or meetings for access from multiple devices.  Integration options on a note include the capability to copy it to Google Docs.
Reviews just after its launch in 2013 praised Google Keep for its ease of use, speed, and quality of voice notes.  It has also received praise for features including universal device access, native integration with other Google services, and the option to turn photos into text through optical character recognition.
The interface of Google Keep resembles a bulletin board where notes can be color-coded and categorized using labels, collaborated on with other Google account members, and pinned for safe keeping. To rearrange notes you simply tap and hold on a note to drag and drop it. There is a powerful search function with many options for filtering your notes to help you find what you need.  Notes can be copied or deleted (if you accidentally delete a note, you can still recover it from the trash folder within seven days of deletion).  Important notes can also be retained in the archive folder located in the navigation pane.
To access Google Keep (you must have a valid Google account), just log in at keep.google.com.  All the syncing between devices happens automatically on Google's end.
This and a lot more was covered in our webinar featuring Google Keep: