In today's hybrid workplace, it's not very easy to verbally congratulate someone, offer kudos for a job well done or physically give them a pat on the back. What do you do to give a shout out to let someone know how much they are appreciated?
Well, with the Praise app in Microsoft Teams, you can instantly recognize individuals and teams using a variety of lively expressions in Chat.  Praise messages can be sent in a private chat or posted to Teams channels for wider visibility.
The Teams Praise app has been updated and now offers 14 creative categories to help spread goodwill. In addition there are now 8 background gradient color schemes to choose from with the optional capability to include a personalized note of up to 500 characters to enhance your message.
Here are the Praise categories to choose from:
Achiever
Awesome
Coach
Congratulations
Courage
Creative
Growth
Inclusive
Kind heart
Leadership
Optimism
Problem solver
Team player
Thank you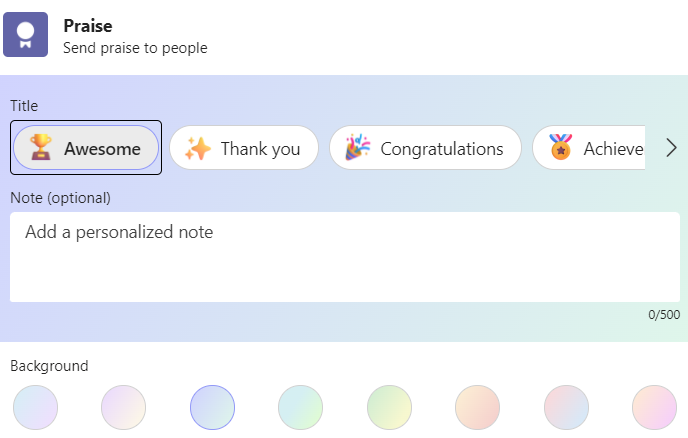 Just follow these four simple steps to get started using the Praise app:
In Teams select either the three-dot Apps menu on the left navigation pane or type an @ symbol in the Search panel to find Praise. (Be sure to pin the Praise app to your Teams chat bar so you can even more easily start giving praise in any Teams chat!)
Next, select who the praise is going to and a Title icon category.
Add an optional personalized Note (yes - you can copy and paste if you have a lot to say!) and a colorful Background.
Last, but not least, Preview the praise to see how it will appear before clicking Send.
And that's it! As we approach the holiday season, start spreading cheer and make a team member's (or whole team's) day with this fun and friendly app.
Just think – starting this January you can even note all the recognition and praise to help determine the employee of the month!
This is just one example of what a Puryear IT Microsoft Teams training class has to offer.
Ready to learn more?  Contact us and a member of our training team will get you on your way!