We've all heard the phrase "preparation is key" and this is never more meaningful in meetings. Better meeting practices improve productivity, information sharing, decision making, and connections among team members.
Consequently, the best meetings happen when attendees are prepared and have all the background intel needed to be fully engaged in the meeting discussion. With Meeting Insights, Outlook leverages AI by gathering associated emails and files which Outlook considers to be relevant information for your meetings so it's now easier than ever to show up prepared.
To activate Meeting Insights navigate to Outlook Options > Calendar > and enable the Show Meeting Insights checkmark:

Meeting Insights appears as a lightbulb command button in the subject area of an open Outlook Calendar meeting appointment or event window. When toggled it lists email messages from your mailbox folders and/or files stored on your computer on a task pane to provide supportive content and reminders of related activities that you may need in your meeting.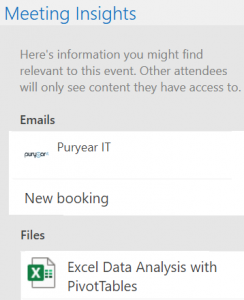 Meeting Insights tailors the information to you, so not everyone in the meeting will see the same content, and will only show information that is already available to you. Outlook simply collects the information for you when and where you need it most – at your fingertips!
Meeting Insights can often lead to unique, actionable ideas that you can use to get better results – so strive to be more proactive and insightful in your next meeting and get ready to be commended for your part in helping it run so smoothly.
In addition, we offer training in a variety of Microsoft Outlook courses - contact us to get scheduled today!