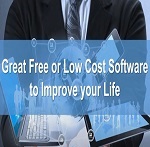 These are a few of the highlights of our webinar Free & Low-Cost Software Recommendations and how to take advantage of them in the digital age.
These are the 3 main precautions you should consider in evaluating free software:
Consider the source. Ensure that you are downloading the software from a reputable source and always read the fine print!
Run antivirus and antimalware scans. Use these safeguard tools to ensure the validity of the download.
Pay attention to options during installation. Often with "free" software, the developer has included additional options that enable add-ins or other third-party vendor actions you may not need or want.
The free or low-cost software solutions featured are classified in the following 3 groups:
Design & Creativity:
Productivity:
Security & Privacy:
This and a lot more was covered in our Free & Low-Cost Software Recommendations webinar: