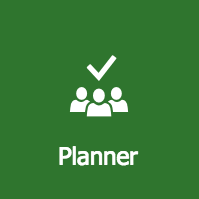 As part of our series Getting the Most Out of Office 365 for Physician Offices, we recently hosted a webinar for our Baton Rouge IT healthcare customers demonstrating how Office 365 Planner, a web-based project management app, can track patient workflow tasks from scheduling to follow-up.
Planner provides buckets (task containers) to organize a plan.  Our plan consisted of 5 buckets to track patient workflow:
"Scheduling" to schedule a patient appointment
"Imaging" to conduct patient x-rays or scans
"Reporting" to perform image analysis reports
"Team Review" for patient treatment planning
"Follow-Up" to complete the patient visit
If you were not able to attend, click the presentation below to view it:
Stay tuned for our next free webinar coming soon by connecting with us on Facebook and LinkedIn.
Puryear IT
225-706-8414
www.puryear-it.com/training services