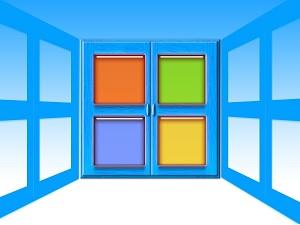 Microsoft Office has a refreshed look that provides a simple, more consistent user experience that lets you focus and be more productive across all Office apps. Microsoft based this Office visual refresh on feedback from users who asked for a more natural and consistent experience within and between Windows Office apps. Using their Fluent Design principles has resulted in an intuitive, familiar experience across all the most popular applications: Word, Excel, PowerPoint, OneNote, Outlook, Access, Project, Publisher, and Visio.
Themes
One notable change is an update of Office Themes consistently across your productivity applications. Office now matches your Windows theme preference by default (entitled 'Use system setting') or offers a choice of Colorful (light gray), Dark gray, Black, or White.  Be sure to check these out in the File > Account > Office Theme section of your Office applications.
Quick Access Toolbar
Are you missing the handy Quick Access Toolbar (QAT)? It's now hidden by default to make your application interface cleaner. Also, if you have never customized your QAT, it will be hidden by default. To show this toolbar, just right-click any area of the Ribbon or select this option from the Ribbon display menu. As in previous versions, the QAT can be shown above or below the Ribbon. One notable change to help differentiate commands on the QAT is the capability to show command labels (text descriptions) adjacent to each icon.
Updated Ribbon
Another update to the Ribbon is the addition of the Undo group on the Home tab where only the Undo and Redo commands reside. You can still use the history arrow to undo or redo multiple actions and the popular keyboard shortcuts remain the same: Undo (Ctrl+Z) and Redo (Ctrl+Y).
Video Overview
See these new features and improvements in action in the following video:
Want to learn more about Microsoft Office? Contact us and we will get you on your way!