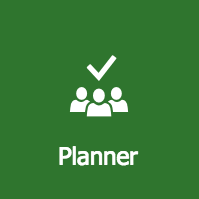 Office 365 Planner was highlighted recently in our presentation for our Baton Rouge IT support healthcare customers, Using Office 365 Planner to Track Patient Workflow.  Planner is often referred to as a lightweight project management tool, but you will find that its features pack quite a punch!
Planner can create plans, assemble and assign tasks, share files, communicate and collaborate between users, and track progress—all from a central hub.  Planner is accessed through a web browser or mobile app and integrates with Outlook, OneNote, SharePoint, and Teams.  Planner offers a highly visual way to organize teamwork to achieve your project goals with the following 3 views:
Board view—which is the default view listing buckets (task containers) and offers a flexible way to organize your plan's workflow and makes it easy for you to see the overall plan and get details about any task.
Charts view—which gives a visual overview of the plan featuring:

Status chart, which shows how many tasks are not started, in progress, late, and completed.
Bucket chart, which shows a bar chart of how many tasks are in each bucket color-coded by their progress.
Priority chart, which shows the number of tasks with urgent, important, medium, and low priorities.
Members chart, which shows the number of tasks each plan member is assigned color-coded by task status.

Schedule view—which shows a calendar of tasks with defined start or due dates that can be displayed in either week or month view with the capability to add new tasks as well as rearrange them simply using drag-and-drop
Just one of the benefits of Office 365 Planner is its seamless integration with other Microsoft apps to assist you with your plan.  When you create a new plan in Planner, behind the scenes Office 365 has also created the following:
OneNote notebook associated with your plan for which you can add sections and pages associated with your project.
Group in your Outlook calendar for plan member comments, conversations, and emails.
SharePoint site for your plan storing the files that have been uploaded as attachments in your plan.
This and a lot more was covered in our Using Office 365 Planner to Track Patient Workflow webinar.