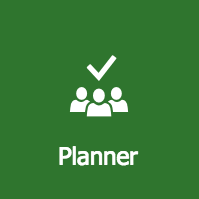 We recently hosted a webinar on how a physician office can use Office 365 Planner to track a patient process from scheduling to follow-up and want to share how the basic principles of Planner from that presentation can be applied to achieving a successful plan.
Planner is a free project management app that provides a hub for team members to create plans, organize and assign tasks, and to check updates on progress through a dashboard, visual charts and graphs, and a calendar schedule. It also provides a centralized place where files can be shared and gives visibility to the whole team.
Let's take a look at how Planner assists in what many project management professionals believe are the top 5 needs to reach the goal of plan success:
Outline the plan—A plan should begin with a defined purpose and an outline of a set of processes broken down by tasks by which a person or team can accomplish the end goal. Planner helps you follow this guideline by using its plan template to define the name of the plan, creating buckets as the plan set of processes, and creating tasks to be associated with each bucket.
It's all about teamwork—Teamwork is the collaborative effort of a group to achieve a common goal or to complete a task in the most effective and efficient way. In Planner, after you have created your buckets with their associated tasks, you need to assign a plan member (or members) to work on the completion of the tasks.
Documentation is critical—The essential functions of documentation in a plan are to make sure that project requirements are fulfilled and to establish traceability concerning what has been accomplished, who has performed it, and when it was achieved. Planner tasks offer the capability to attach files, photos, and URL links directly to the tasks themselves, making the plan a central location for everyone to collaborate and get work done.
Communicate well—Along the lines of a popular saying, "Nothing ever goes according to plan!", Planner helps you avoid this pitfall by providing the communication tools you need to keep your project on track. Each task in Planner has a comments field to document any questions or issues a plan member may have which then posts to the team as a conversation in Outlook.
Visualize the plan—Planner offers many ways to see an overall view of your plan. The plan board lists all of your buckets and tasks in a card view, charts view shows a variety of graphs depicting the status, progress, and plan member assignments, and schedule view shows tasks featured on a calendar.
This and a lot more was covered in our Using Office 365 Planner to Track Patient Workflow webinar.