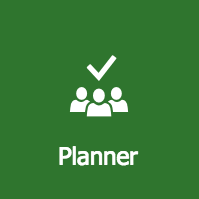 We recently hosted a webinar on how a physician office can use Office 365 Planner to track a patient process from scheduling to follow-up and want to highlight how when two of the most popular Office 365 apps, Planner and Teams, come together you can take your plan and team to a whole new level.
What is Planner primarily used for? If you have been tasked with initiating a plan and are overwhelmed or intimidated by Microsoft Project, then the Office 365 Planner app is just for you. Planner is a lightweight, simple-to-use project management platform that efficiently gets the job done through the power of Office 365 collaboration. Planner allows Office 365 users to create plans; organize, assign, and collaborate on tasks; set deadlines; chat with plan members to stay up to date on progress; and upload and share files. It allows you to track your plan's progress from a visual dashboard, charts, and calendar as well as get updates on plan developments via conversations and email notifications.
What is Teams primarily used for? Since its launch in 2017, Teams has become the fastest growing Office 365 app in Microsoft's history. Teams has often been described as a chat-based workspace, but it actually can do so much more. Teams allows Office 365 users to have quick conversations or impromptu meetings (reducing the need for back-and-forth emails or tying up calendars), create and collaborate on important documents and files in real time, and enables access to integrate with a myriad collection of other apps with just a few clicks.
What can Planner and Teams accomplish together? The best way to maximize and give your Planner plan visibility to its plan members is to add it as a tab in a Teams channel using the Add a tab + feature. Then the team will have the capability to view and access the plan, contribute to the plan board, and manipulate all of the plan components directly in Teams with the added functionality of using its convenient conversation and meeting features to collaborate on the plan—all in real time!
This and a lot more was covered in our Using Office 365 Planner to Track Patient Workflow webinar.